Welcome to YOUR Lied Center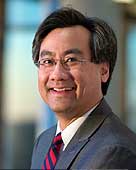 We literally have something for everyone during your Lied Center's 2016–2017 season! It has been so much fun orchestrating all of next season's events based on meaningful feedback from all of you—our wonderful patrons. Due to popular demand, we are ecstatic to add an additional night to the exclusive Just Friends Jazz Series.
Special thanks to all of our Friends of the Lied who make it possible for your Lied Center to serve the entire community and university.
—Derek S. Kwan, executive director
Supporting artistic and educational programs at the Lied Center of Kansas.
Learn more
The Lied Center of Kansas serves the state's flagship university, students and the greater community by functioning as a catalyst for the arts, creativity, engagement and community building.
Stay Informed!  Sign up for our e-newsletter and receive discounts, calendar listings and performance information. Sign Up