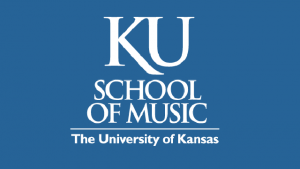 KU's School of Music was established as the School of Fine Arts academic unit in 1891 as one of the first national institutions to offer professional degrees in the arts. The School of Fine Arts became the School of Music in July 2009.
The School of Music at the University of Kansas strives to offer a comprehensive array of programs of study at the bachelor's, master's and doctoral levels. The School offers required coursework to students wishing to pursue a profession in music or those pursuing related programs of study on campus. The School also offers elective opportunities for music study to the overall student body.
The School of Music seeks to nurture and advance the art of music through creation, performance, scholarly inquiry, entrepreneurship and enhancement of the artistic skills and experiences of the University and regional cultural communities. Nurturing and advancement occur via outstanding teaching, mentorship, quality research and creative endeavors and service to professional and lay constituencies. The School is a major contributor to the arts community through student, faculty, and professional performances in Swarthout Recital Hall, Bales Organ Recital Hall, the Robert Baustian Theatre and the Lied Center of Kansas.
The University of Kansas is a charter member of the National Association of Schools of Music (1928) and is the only institution authorized by the Kansas Board of Regents to grant doctoral degrees in music. The KU School of Music, located in Lawrence, KS, was ranked in the top 50 public universities in the nation for best educational value, according to Princeton Review (2010).
Can't be there in person?
Follow us on LiveStream for updates on other School of Music events!