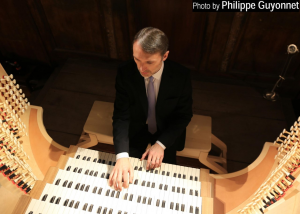 Olivier Latry, organist displaced-by-the-fire at Notre-Dame Cathedral in Paris, performs this concert as part of his teaching residency at the KU School of Music where he is the William T. Kemper Artist-in-Residence.
This historic concert is a celebration of the 125th Anniversary of the Organ and Church Music Program at KU. It is part of a three-day conference on the organ music of J. S. Bach, entitled "Bach at Bales." On this special occasion, Olivier Latry will perform a program of works by Johann Sebastian Bach, the most important composer to write for the organ.
The Bales Organ Recital Hall is a facility designed for and dedicated to the teaching, rehearsal, and performance of organ music.
The 198-seat hall features exceptional acoustics designed especially for the magnificent 45-stop mechanical action organ built by Hellmuth Wolff & Associés Ltée.
---
This event is not part of the Lied Center's performance series. For hosted events, the Lied Center has limited control over event-related activities, content, recording, reproduction, cancellation and ticketing or refund policies.
Please note, Friends of the Lied ticket discounts do not apply to this performance as it is a hosted event and not part of the Lied Center's performance series.