3rd Grade Theatre Arts Day
The Lied Center and USD 497 have been partnering to bring live performing arts experiences to every student in the district, free of charge for nearly 25 years. About 10 years ago, we create another program specifically for 3rd graders. 3rd Grade Theatre Arts Day gives every 3rd grader in the district a chance to spend an entire day at the theatre learning about drama, dance, make up, technical theatre (lighting, sound, etc.) as well as other theatre activities. Students rotate through six different stations. Each station lasts 30 minutes. We rotate through three stations and then all take a break for lunch which is eaten on the Lied Center stage. After lunch, the groups rotate through the next three stations.
The stations for this upcoming day will be:

Technical Theatre
Lied Center technical staff will give the students a tour of the stage, a ride on the stage lift and learn about lighting and sound.
Drama/Theatre
This station is taught by Jeanne Averill. Jeanne has been teaching drama and theatre for over 30 years. Jeanne retired from USD 497 about 4 years ago. She still teaches at KU Theatre and the Lawrence Arts Center.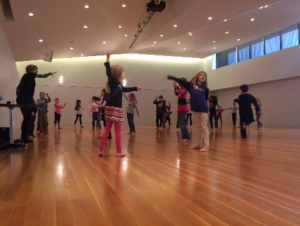 Dance/Movement
This station is taught by Molly Gordon, dance teacher. Molly will teach the kids about some of the basics of dance: Body, Space, Energy, Time. This session is very participatory.
Magic/Juggling
Jay Cady has been teaching kids about magic and juggling for over 30 years. Jay will show the kids some magic tricks and teach them some juggling. This session is very participatory.
Makeup
The Makeup station is by far the favorite with the 3rd graders. Lauren and Erica have done make up for many theatres in the Kansas City area as well as make up for Quixotic. They teach the students how to apply make up for the best affects, reminding them that folks that are sitting in the balcony will be able to see the scar, or some other important feature to a character's face.
Puppetry
Priscilla Howe has been telling stories and presenting puppet shows for the kids of Lawrence for years! Many of you may know her, ALL the kids do. Priscilla allows each student to have a turn with one of the puppets. She teaches them how to create a voice and an attitude for the puppet they chose.