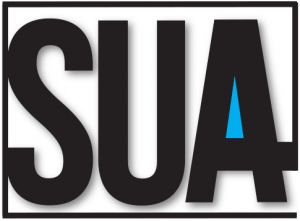 In the Fall of 2014, the Lied Center and Student Union Activities (SUA) established an official partnership with the intent of enhancing both entities' appeal and programming objectives among the student population at the University of Kansas. The Lied Center is grateful to SUA for facilitating greater awareness of Lied Center performances among KU students. During the 2014-2015 school year, the Lied Center has hosted numerous events in partnership with SUA including appearances by the comedians Nick Offerman and Colin Jost, multiple Tunes @ Night: Listen at the Lied concerts and a Dinner and A Show event for students surrounding the KODO performance. We look forward to building upon this foundation for many years to come.
The Student Union Activities (SUA) Board is a student organization that has planned or "programmed" events for the entire KU community to enjoy for 75 YEARS. The events are chosen, planned, and put on by eight student committees and largely promoted by the committees.
SUA's mission is to seek to enrich the college experience by providing diverse, interactive, and educational programming and leadership opportunities for the KU community. SUA strives to uphold its mission through every event it brings to the KU campus.
SUA is focused on adding to the college experience of all KU students.