Donate
Friends help ensure world-class performing arts are available in the KU and Lawrence communities.
Your donation helps keep ticket prices affordable for our community.
Friends help the next generation of performing arts lovers experience the best in children's programming for free.
We SPOIL our Friends!
With donation levels beginning at $50, it's easy to enjoy exclusive Friends opportunities and INVEST in the arts and in our community.
Explore
Benefits
Ticket sales provide less than 40% of the funds necessary to bring world-class artists to Lawrence. Your generous financial contribution is critical to the Lied Center and helps make our community a wonderful place to live. Friends of the Lied donations start at $50 and are 100% tax-deductible.
By becoming a Friend of the Lied, your business can help bring the highest quality performances and meaningful education and community outreach programs to Lawrence. An investment in the Lied Center can also enhance your community exposure, client entertainment opportunities and a variety of marketing opportunities.
Friends of the Lied donations start at $100 and are 100% tax-deductible.
Additional marketing opportunities are available to donors who would like to sponsor an event. For details, contact the Lied Center at 785-864-2788.
VIP Sponsors make a significant donation to the Lied Center because they recognize the importance of the performing arts to our community. VIP Sponsors not only have the satisfaction of supporting the arts, they enjoy a valuable marketing opportunities.
VIP Sponsor Opportunities
Marketing value:
Recognition on the Lied Center's electronic sign at 15th and Iowa
Recognition in Lied Center Series performance programs, including a full page color advertisement
Recognition in advertising for the event and in the performance program
Recognition on stage before the performance
Recognition (logo) on performance tickets
Additional performance-related opportunities may include the following:
20% discount on Lied Center Series performances all season
Complimentary tickets and reserved parking during the performance
A private reception for up to 30 guests in conjunction with the performance
---
Letter from Board President
Richard Flynn, 2023–24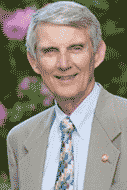 Thank you for your interest in the Lied Center of Kansas! In celebration of its 30th anniversary, the Lied Center has planned one of its best programming years ever. The organization's long-standing vision lights the way: "We envision a world in which the arts are universally valued as essential to the human experience, and the Lied Center is a catalyst for realizing this ideal."
Friends of the Lied support this vision in a multitude of ways, including helping fund world-class performing arts programming, community outreach and events, educational experiences, school performances and more.
My wife and I chose Lawrence for our retirement years, and we have not been disappointed. Experiencing life-enriching performing arts as a Friend of the Lied has provided us with memories that will last a lifetime—and we have often heard similar testimony from others.
Many thanks to those who are already Friends of the Lied! To those who are considering becoming a Friend, we hope you will join today and enjoy the many perks, like advance ticket sales and discounts, in the upcoming season.
We look forward to seeing you at the Lied Center—truly a shining star for the University of Kansas, the Lawrence community and the state of Kansas.
Best wishes,
Richard Flynn
Friends of the Lied board president