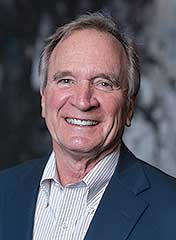 "Welcome to your Lied Center of Kansas! I am honored to serve as President of the Friends of the Lied Board for the upcoming season.
This year, we celebrate our 25th anniversary. When Ernst F. Lied passed away in 1980, his long-time assistant, Christina Hixson, was appointed the sole trustee of the Lied Foundation Trust. An extraordinary woman, she established the Lied Performance Fund to make the arts more accessible to the people of Kansas. In 1988, the Lied Trust gave a gift of $10 million to build the Lied Center of Kansas, which opened in 1993, and has since been recognized as one of the ten most influential university presenters in the country and one of the top attractions in the state of Kansas.
In addition to its public performances, the Lied Center has engaged with more than 160,000 public school students through performances and special programs. Each year, over 10,000 preschool through 12th graders attend free, school-only performances and arts activities, with additional programs for students in Lawrence and across Kansas.
There are currently about 1,000 donors to the Friends of the Lied. Your gifts help provide world-class performing arts to the community and reduce ticket prices for these programs. By becoming a Friend, you will receive special benefits, such as discounted ticket prices, advance ticket purchase opportunities and more. Please consider becoming a Friend to help the Lied Center continue to offer excellent arts programs for all."
— Stephen Edmonds
2018–19 Friends of the Lied Board President