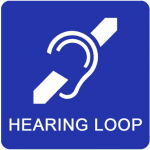 The Lied Center is proud to partner with Lawrence Otolaryngology to install a hearing loop system to help make performances at the Lied Center more accessible and enjoyable for people with hearing loss.
For individuals who use assistive listening devices like hearing aids, large performance venues and group settings can be problematic because of background noise, distance from a sound source and reverberation, resulting in unintelligible and frustrating performing arts experiences.
With the hearing loop, the sound from the stage will be delivered directly into telecoil-enabled hearing aids, cochlear implants or headsets with loop receivers. According to the Hearing Loss Association of America, most hearing aid models either come with telecoils (t-coils) or offer them as an option. The t-coil can be easily activated by a switch on the individual's personal hearing device, enabling it to receive clear sound from the loop without extraneous noises. Additionally, headsets will be available at the Lied Center for patrons with hearing loss to use if they do not have t-coil hearing aids or cochlear implants.
Fundraising for the project began in early 2018, and thanks to generous donors and patrons, it is estimated that the Lawrence Otolaryngology Hearing Loop will be installed and available for use at the beginning of the 2018–19 season in the fall.
Dr. Robert C. Dinsdale, otolaryngologist and partner at Lawrence Otolaryngology said, "it was a natural fit and an easy decision to support the hearing loop. The Lied Center is a terrific asset to our community, and anything we can do to help improve communication in the arts and in the community, we want to support." Of his personal experience using hearing loops versus not, Dinsdale said "the difference is night and day. It's so useful and convenient—I go in, I take my seat and with one click, I can hear a performance even better than someone who doesn't have hearing loss."
As a way to kick off the installation of the new Lawrence Otolaryngology Hearing Loop, the Lied Center invites the community, especially those with hearing loss and assistive listening devices, to an event on Tuesday, August 28 at 7 pm with speaker and hearing loss advocate Gael Hannan. As a writer, actor and public speaker with severe hearing loss, Hannan will present "I'm Hearing as Hard as I Can." The event is free and open to the public and will allow patrons to try the new hearing loop at the Lied Center.
Click here to see the event page for Gael Hannan's "I'm Hearing as Hard as I Can."
Click here for more information about hearing loops.
For press-related inquiries, please contact Betsy Ostrander at bostrander@ku.edu or 785-864-2722.