Rock Chalk Suite—Jazz at Lincoln Center Orchestra with Wynton Marsalis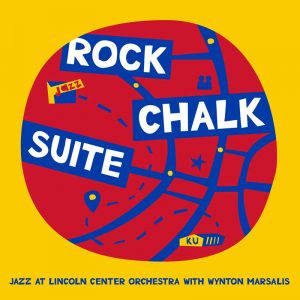 It's been said that basketball is like jazz—but Rock Chalk Suite takes the comparison to another level entirely. Written and recorded by the musicians of the Jazz at Lincoln Center Orchestra with Wynton Marsalis, each of the suite's high-flying 15 movements takes inspiration from a different University of Kansas hoops legend. As Marsalis says, both basketball and jazz "reward improvisation and split-second decision making against the pressure of time," and the JLCO's masterful composers have turned the Jayhawks' rich basketball history into a stylish slam dunk of an album.
Rock Chalk Suite was commissioned to celebrate the 25th anniversary of the Lied Center of Kansas, KU's performing arts center, and the album utilizes the JLCO's full roster to honor the university's rich athletic heritage as well as its cultural contributions to the world. Drawing on the careers of famous Jayhawks like Wilt Chamberlain, Paul Pierce, Lynette Woodard, and Jo Jo White, Rock Chalk Suite is a timeless tribute to the spirit of improvisation, both on and off the hardwood.
The full digital album is available at jazz.org/rockchalk. Click here to read about the stories behind the songs on Rock Chalk Suite.
TRACK LISTING
The Y's Guy (for James Naismith)
Jo Jo's Mojo (for Jo Jo White)
Phog Allen (for Phog Allen)
The First Lady: Lyrical Lynette (for Lynette Woodard)
C. B.'s Theme (for Charlie B. Black)
D(efense)-Up: The Untold Story of Darnell Valentine (for Darnell Valentine)
The Truth (for Paul Pierce)
Walt's Waltz (for Walt Wesley)
Miracles (for Danny Manning)
Third Quarter (for Nick Collison)
Passing Game (for Bill Hougland)
I Cry Before My Country, I Leap Across Its Seas (for Wilt Chamberlain)
Wiggins in 6/8 (for Andrew Wiggins)
The Ponderous Pachyderm of the Planks (for Clyde Lovellette)
The Shot (for Mario Chalmers) / I'm a Jayhawk (The KU Fight Song)
---
THE JAZZ AT LINCOLN CENTER ORCHESTRA WITH WYNTON MARSALIS
2018–19 Concert Season
REEDS
Sherman Irby — alto and soprano saxophones, flute, clarinet
Ted Nash — alto and soprano saxophones, flute, clarinet, piccolo
Victor Goines — tenor and soprano saxophones, Bb and bass clarinets, tambourine
†Walter Blanding — tenor saxophone
*Camille Thurman — tenor and soprano saxophones, clarinet
Paul Nedzela — baritone and soprano saxophones, bass clarinet
TRUMPETS
*Ryan Kisor
Kenny Rampton
Marcus Printup
Wynton Marsalis
TROMBONES
Vincent Gardner
Chris Crenshaw (additional vocals, track 7)
Elliot Mason (tracks 1-8, 10-14)
*Sam Chess (tracks 9 and 15)
RHYTHM SECTION
Dan Nimmer — piano
Carlos Henriquez — bass
*Charles Goold — drums
*Taurien "TJ" Reddick – percussion
*Indicates substitute orchestra members
†Did not perform on this recording
Program notes from the world premiere performance on October 11, 2018 at the Lied Center of Kansas.
Order CD online
---